FINAL : For All Time. Always.
In the Citadel at the End of Time, Loki and Sylvie meet Miss Minutes and reject an offer from her creator, "He Who Remains", to return them to the timeline with everything they desire. Meanwhile, Renslayer leaves on a mission to find "free will" after receiving information from He Who Remains. B-15 informs the Minutemen that they are variants by showing them a variant of Renslayer who is a school vice principal. He Who Remains reveals to Loki and Sylvie that he created the TVA after ending a multiversal war caused by his variants.
As the timeline begins to branch, he offers them a choice: kill him and end the singular timeline, causing another multiversal war, or become his successors in overseeing the TVA. Sylvie decides to kill him, while Loki pleads with her to stop. They kiss, but Sylvie sends Loki back to TVA headquarters. She kills He Who Remains, unleashing a multiverse with timelines that cannot be pruned. At TVA headquarters, Loki warns B-15 and Mobius about variants of He Who Remains, but they do not recognize him. Loki sees that a statue in the likeness of He Who Remains has replaced those of the Time-Keepers.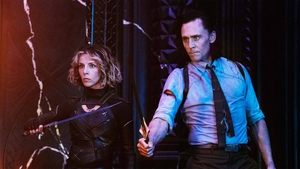 Jul. 14, 2021